Dabbawallas: Delivering Excellence
Mumbai's dabbawallas pick up and deliver more than 350,000 home-cooked lunches to office workers every working day. How did this amazingly efficient delivery system develop from its start with one boy on a bicycle?
Mumbai's committed contingent of 5,000 dabbawallas delivers over 350,000 lunches per day to office workers across the megacity. Typically the lunches are packed in stacked metal lunchboxes which lend this collection of culinary couriers their name: dabba = tiffin, container; walla = worker. Each tiffin is picked up at the client's home, delivered to his office, and then returned, a trip during which it will typically pass through the hands of at least 12 dabbawallas across an elaborate zoning system. Somewhere in the middle—far away from the fast-paced delivery antics—a home-cooked lunch is enjoyed. Many articles about the dabbawallas start with their innovative system, but in designerly fashion, let's start with the end user. Those who engage the services of dabbawallas tend to be middle-class office workers who embrace the Indian preference for and pride in ghar ka khana (home-cooked food). Most of them reach work by train, which means they leave home early and may be boarding chaotically packed carriages, making carrying their own tiffin a challenge. Add to this the status of arriving at work unencumbered. The dabbawalla system provides a welcome solution by collecting meals lovingly prepared at home, then getting them to the office and back. Lunching clients have diverse dietary preferences—Muslims, Hindus, Parsis, Jains, Buddhists and more join diabetics and dieters—increasing the need for precision delivery of the correct meal to its rightful recipient.
You seem to enjoy a good story
Sign up to our infrequent mailing to get more stories directly to your mailbox.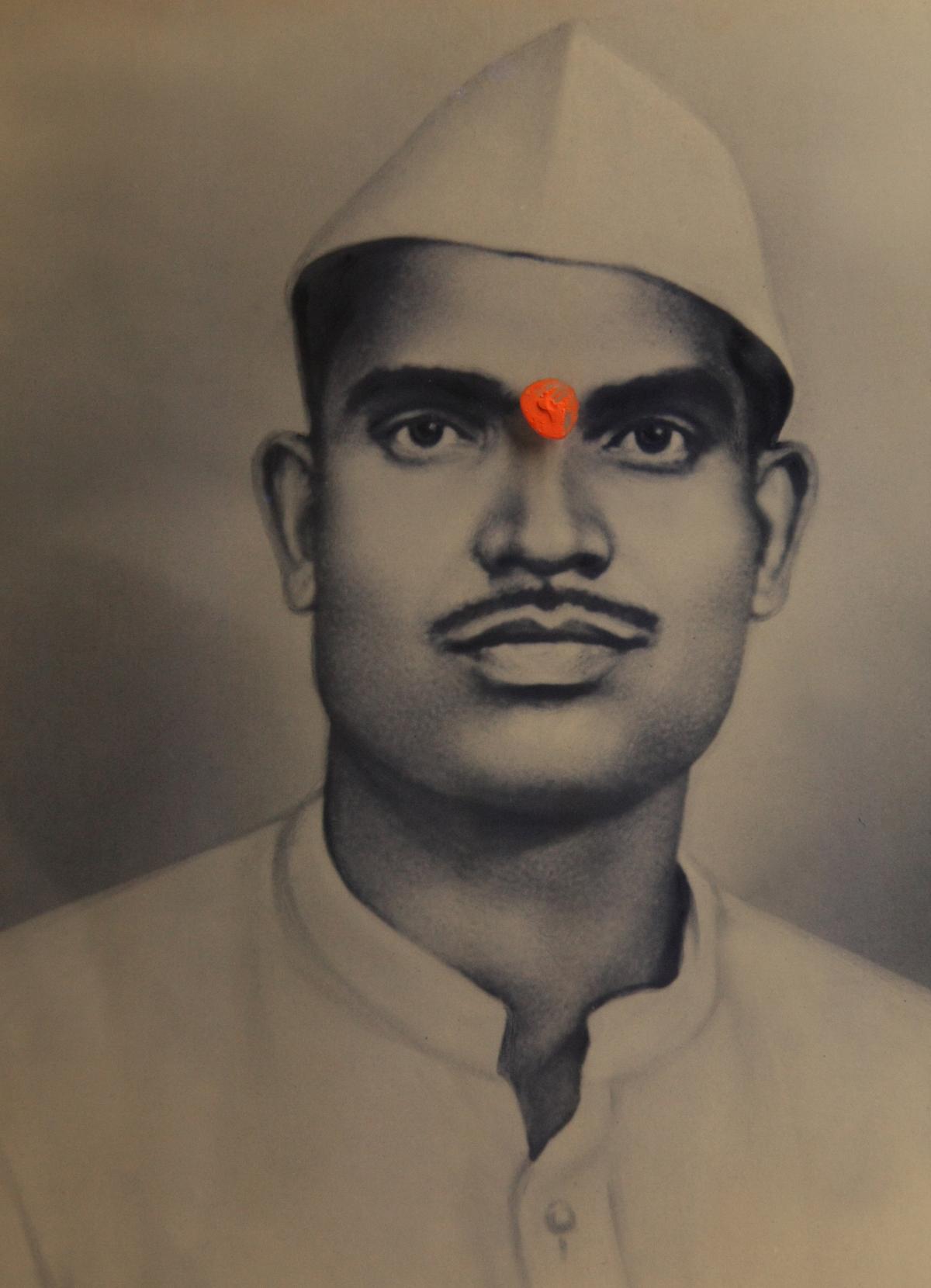 A preference for ghar ka khana—home-cooked food—has created the local demand for lunch delivery which the dabbawallas have keenly met with a commitment to accuracy.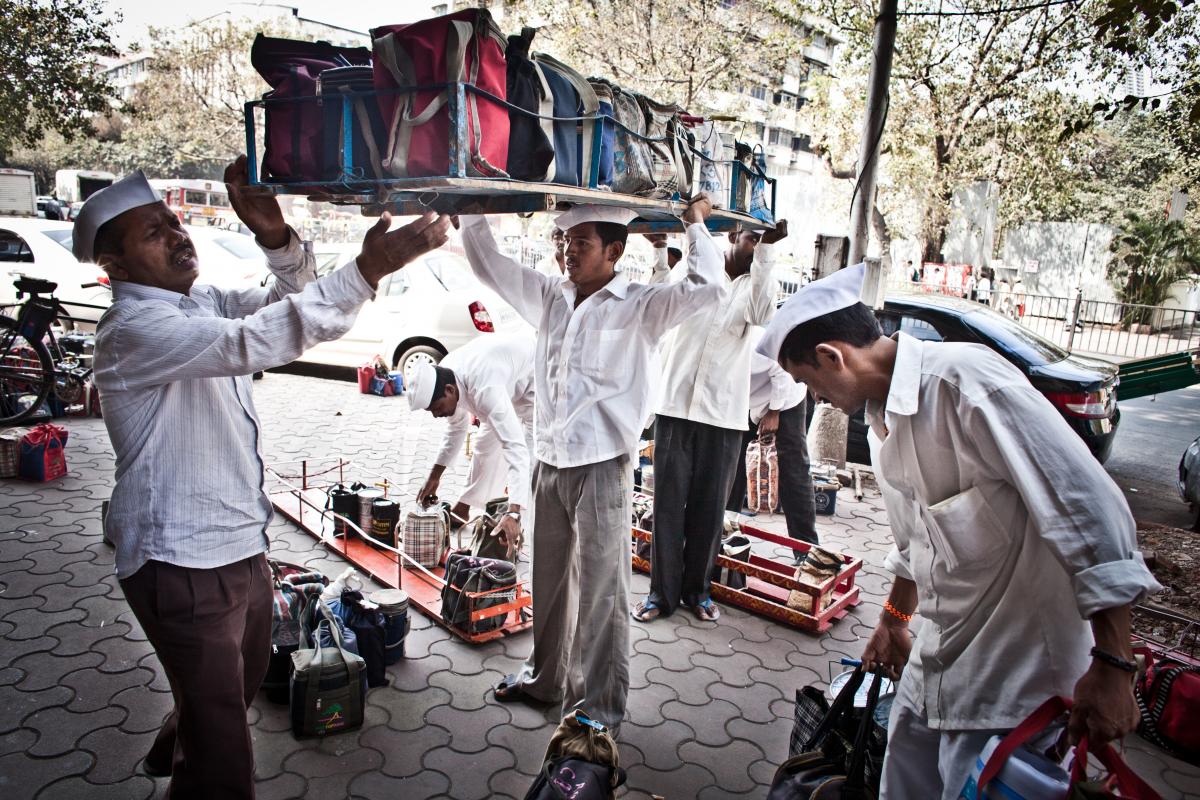 One such discerning diner was a Parsi banker working in Mumbai in the 1880s. He employed a young errand boy to deliver his lunch, and others, envious of his promptly delivered, freshly made, home-cooked lunches, soon requested the delivery boy's services as well. The boy was Mahadeo Havaji Bacche from Pune, who is credited with founding the Mumbai dabbawallas. Unable to keep up with demand, he enlisted others from his village and the surrounding area. This location-based connectedness continues to enrich the signature camaraderie of dabbawallas to this day. Bacche's understanding of client needs, fellow workers' capabilities and Mumbai's specific transport context allowed him to leverage local factors to build a service which was able to grow from his initial team of 100 to the 5,000+ dabbawallas that keep Mumbai office workers fuelled and fed today.
Delivering lunch boxes from people's homes to their places of work and back again might sound fairly straightforward. However, the challenge for dabbawallas is to do so at scale within a lean business model, negotiating time-bound trains and dense urban environments while grouping deliveries to similar locations for efficiency. For this they employ a hub-and-spoke distribution approach. Lunches are usually collected from individual homes on foot or by bicycle around 9–10 am. Once you recognise this, you'll be surprised how often you spot dabbawallas on bicycles laden with tiffins around Mumbai during their morning or afternoon deliveries. From the morning collection, the tiffins are taken to a local sorting hub where they are grouped according to those heading into the city on the same train line. They're often carried overhead on large metal trays, a tricky task when having to board urban trains which only stop briefly. At the other end they enter another hub where they are sorted again according to neighbourhood destinations. From here the tiffins continue their journey by bicycle or trolley, the final delivery usually being made on foot. Keep in mind that individual dabbawallas only serve on a specific part of the tiffin's route. It's the smooth running of all the hub-and-spoke locations which ensures its delivery across the average 60–70 kilometres travelled by each tiffin. A senior dabbawalla quips, 'It's like a cricket team. Teamwork is essential'—an analogy which resonates in the cricket-loving nation that is India. Worth noting is that some office buildings downtown, where the service is popular, keep one of their elevators free over lunchtime specifically for the well-respected dabbawallas and their appetite-appeasing deliveries.
The localised efficiency of the dabbawalla system has been hailed by business and design schools worldwide. Forbes Magazine awarded it a Sigma Six rating in 2002, estimating that less than one mistake is made in every six million deliveries—that's 12 million dispatches if you count both directions. So how is this accuracy ensured by a workforce which has traditionally possessed low literacy? Historically the dabbawallas developed their own code utilising numbers, letters, colours and symbols applied to the tiffins to enable them to be sorted systematically at key points of the journey. (It's not dissimilar to the notion of packet-switching by which digital data is transmitted via shared networks like the Internet.) At larger hub points, a dabbawalla is stationed with the specific task of spotting potential mix-ups and redirecting misplaced lunchboxes back onto their correct trajectories.
The dabbawallas' coding system—while complex at first glance—has ingeniously evolved from the bottom up, to ensure accurate delivery by semi-literate workers.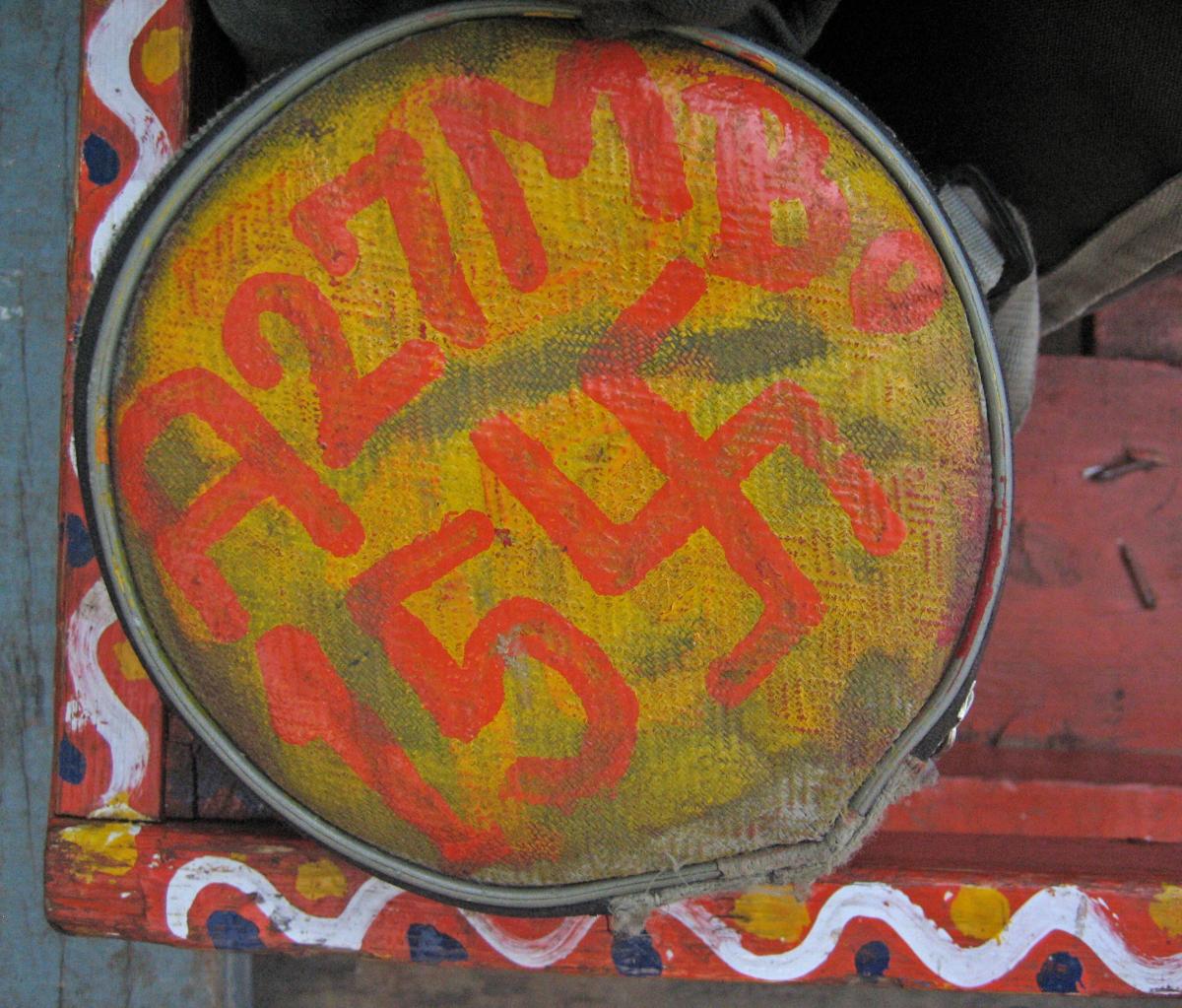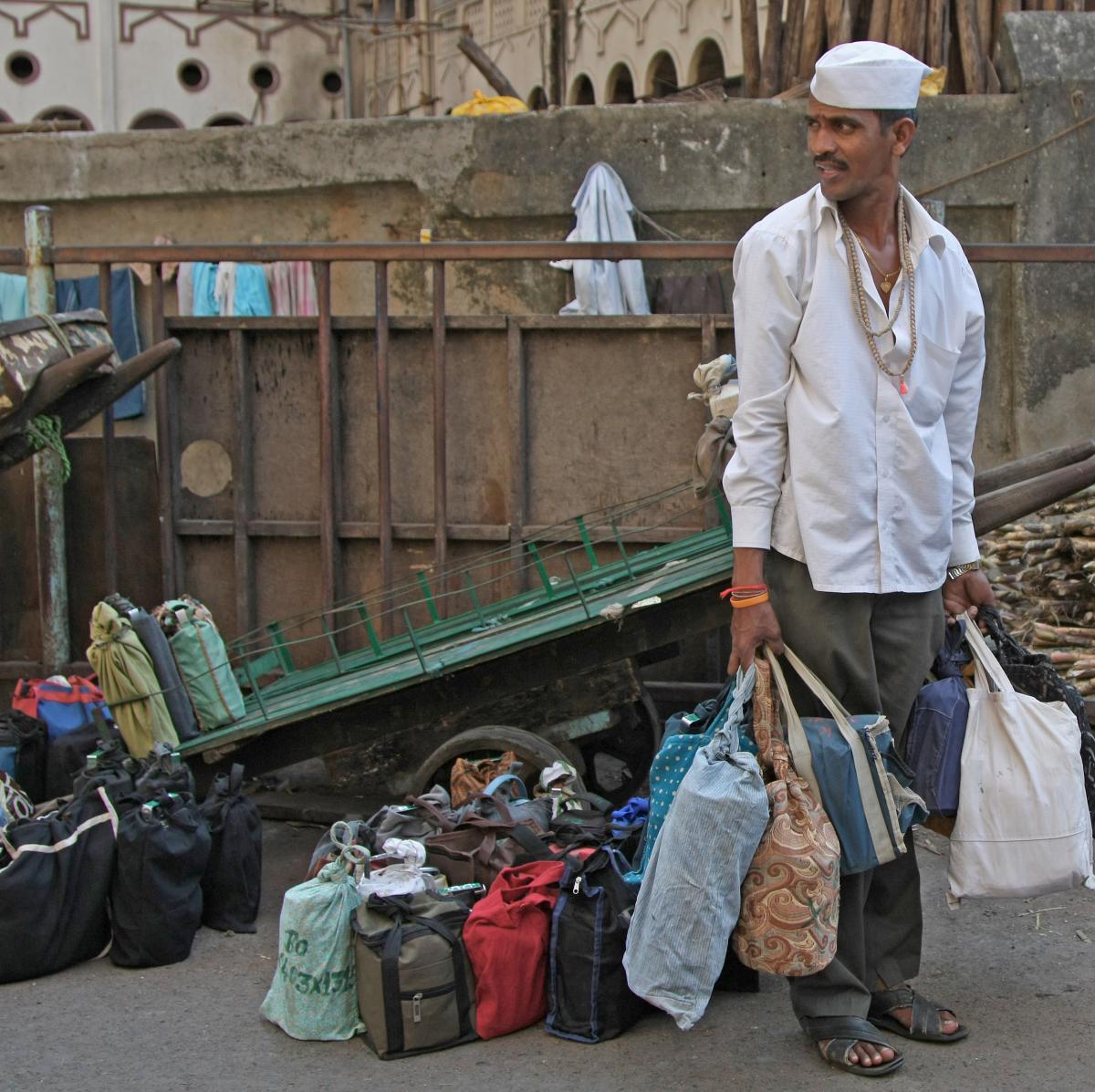 With an annual turnover surpassing ₹400 million, the dabbawallas have a surprisingly flat hierarchy. They are united by a workers' association which is headed by former dabbawallas who are often found sitting cross-legged amongst workers as they take their lunch breaks at various hubs. Monthly tiffin deliveries are priced by weight, size and distance (around ₹300–500 per month), and each of the 800 teams splits its share evenly between members, regardless of their seniority. After maintenance costs have been paid for bicycles and other tools of the trade, as well as a fee to the workers' association, each dabbawalla takes home around ₹6,000 per month. The association is in good financial health, supporting the families of deceased workers and donating to various food distribution charities. It also supplements its income through the provision of cooked-meal services. The dabbawallas present a united workforce. High levels of trust are cultivated, with new hires being introduced by referral. Most workers sport a white kurta pyjama set, though the iconic Gandhi cap is a more prescriptive requirement and makes them easy to spot in a crowd. They take lunch together from their own tiffins at their respective hubs, where spirits run high. The edict of their founder that 'Work is Worship' seems prevalent in the pride shown by dabbawallas in the diligent service they provide. Acknowledgement that team effort is the essence of their enterprise is implicit in their humble approach, which celebrates teamwork over individual performance.
This united dedication to a collective pursuit of excellence has served the dabbawallas well in the face of potential disruptions of service such as riots, monsoon floods and the multitude of state and religious holidays which pepper the Indian calendar, although the 1974 railway strikes temporarily halted their service due to the interruption of a core part of their delivery model. 'Commitment to excellence is what drives our growth. That and the fact that the stomach is never in recession,' beams the head of the workers' association. In fact the service continues to achieve 5–6% annual growth and adapts to evolving lifestyles by offering SMS bookings and delivering lunches from diet centres. As I ride with a group of dabbawallas by train on their return journey, I'm amazed that after a long day of fast-paced heavy labour, they still have the inclination to discuss ways they could improve the performance and efficiency of their sector. Considering their thousands of satisfied customers, strong solidarity amongst workers and a delivery system ingeniously built on local conditions, you might well ask: are the best innovations home-cooked and home-grown?